Is Your Website Compliant with the EU Cookie Law?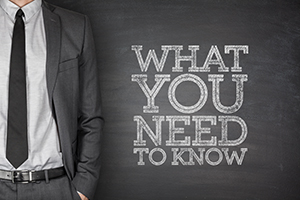 A How-to Guide for Complying with EU Cookie Legislation
On July 27, Google launched a new user consent policy for publishers that run Google AdSense (also includes AdX). If you run AdSense on your site and if your website attracts visitors from any country in the European Union, Google is encouraging you to comply with EU laws regarding privacy consent. The gist of the EU policy is that if your site uses cookies, you must alert visitors and obtain their active consent before they may use your website. If your site does not comply, you may face fines.
There are some exceptions to this policy, but if you are running ads on your site, the safest path is to comply with the EU law. Below find information and instructions to become compliant:
1. What it looks like:
The alert is under the green arrow.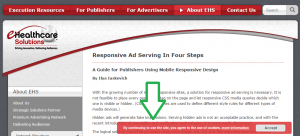 2. How to install it:
The free solution recommended by Google requires you to install a bit of code on your website. The more complex solutions will cost money.
The solution that we recommend is at Silktide – Cookie Consent. It's free, open source, and it is very simple to implement. It is also approved by Google. Note for developers: The alert code should be included on every page, easily accomplished by placing in the header file before the </head> tag. Full instructions at link.
If your site is built in WordPress, the EU Cookie Law Plugin works well. This is the program that created the alert in the above picture. It is easily configurable for colors, text & link.
3. What it does:
The two solutions above will create an alert pop-up that tells visitors that your site uses cookies. The two above can also contain a link to your site's privacy policy. Once a visitor hits "Accept," they will not see the alert again for a year.
4. Caveat:
The free solutions do not allow you to only show the alert to EU visitors. Unfortunately, the free versions will show to visitors from everywhere. More complex programming is required to show only to EU visitors.
Here are a few solutions that will allow you more configuration options including geo-targeting (all approved by Google):
Cookie Control – Also has a free version that does not have geo-targeting.
Optanon at CookieLaw.org – Fabulous solution that includes geo-targeting, an auditing service, allows visitors to choose the types of cookies they want to allow, and more. The yearly price is very reasonable (at the publishing of this article approximately $349). Good choice for a site with more than 10,000 pages.
Cookiebot – Free one month trial, pricing is reasonable for a site with less than 10,000 pages (at the publishing of this article $39 or less).
5. More Resources:
Google's new user consent policy
Google's site with help on how to adhere to the policy
Google interpretation of the EU User Consent Policy
EU's guide on cookie legislation
If you need more advice on this topic, please contact your Partner Relations Manager at busdev@ehsmail.com.
For technical help, please contact sem@ehsmail.com.